Can You Use Whipping Cream In Coffee?
Yes, it is possible to use heavy whipping cream in coffee but you must be mindful of how much and when to do so. Too much cream can make your coffee taste weak and bland, while if you're trying to watch your calorie intake then opting for a lighter option like skimmed milk or an almond cream could be the way to go.
It's important to remember that heavy whipping cream isn't the same as whipped cream as it won't add the same texture or depth of flavor if this is what you're looking for.
Using small amounts is key here, as it'll give you the right balance between flavor and richness; take note though whippy cream will require more coffee than usual due to its high-fat content.
Substituting Heavy Whipping Cream For Milk
When it comes to adding a creamy texture and flavor to your coffee, using heavy whipping cream as a sub for milk is a great option. While hot coffee and milk are traditionally paired together, some may want to take their caffeine-filled beverage up a notch by adding some additional sweetness or texture.
If you want to add flavor and calories to your beverage, using heavy whipping cream is a better choice than milk. It has more fat, so your drink will taste even richer.
Best of all, since heavy whipping cream creates greater stability when substituted with other dairy products when making latte foam, it's perfect for creating those fluffy and delicious cappuccinos or lattes. So don't be afraid to try it and give your coffee an added kick of extra flavor.
Why Use Heavy Cream In Coffee Brewing?
Using heavy cream in coffee brewing is a great idea for those looking to add a new dimension of flavor and texture. Heavy whipping cream is the highest fat content product available when it comes to milk, meaning that it adds an unbeatable silkiness and mouthfeel to any cup you make.
Keto dieters will be pleased to know that adding these creamy-rich fats will help aid in their weight loss effort, as heavy cream provides an excellent source of healthy fats. Plus, with its heavyweight body, layering drinks becomes much easier.
It's also worth noting that adding heavy cream introduces some stunning visuals. Just look at any drink prepared with whipping cream and you'll see how the added fats create such a beautiful creamy body. So if you want to breathe a bit of life into your next cup of joe, why not give whipped creams a try?
What Flavor Does Heavy Whipping Cream Have In Coffee?
When you add heavy whipping cream to your coffee, you'll notice an instant change in flavor and texture. The creamy texture will coat your tongue, while the flavor takes on a richer, more indulgent taste.
And because most heavy whipping cream doesn't have granulated sugar added, the beverage won't be overly sweet, giving you the option to customize it with your own sugar, syrups, or flavorings for just the right amount of sweetness.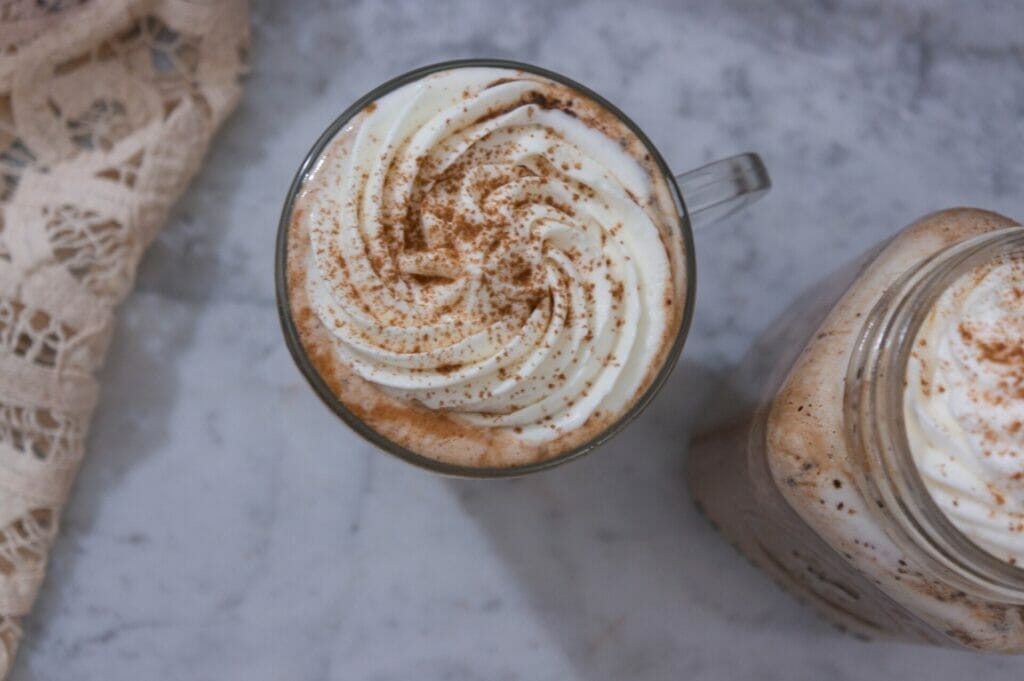 And if added flavor is what you're after, there's also coffee creamer specifically designed for hot or iced coffee drinks. From Pumpkin Spice and Vanilla extract to Hazelnut and beyond, there are plenty of flavored creamers on the market that can add exciting new twists to any coffee.
Just keep in mind that while they can give drinks extra pizzazz, they can also mask the finer nuances of a specialty-grade coffee.
How To Make The Perfect Cup Of Coffee?
If you're looking for the perfect cup of coffee, it all comes down to knowing how to use heavy whipping cream. Start by experimenting with different amounts of heavy whipping cream – a little bit at first and then gradually add more until you reach your desired consistency.
Remember that while heavy whipping cream can add flavor to your coffee, it is not the same as using whipped cream. So if you're going for a light and airy texture, then stick with whipped cream. With a little bit of experimentation, you'll soon be sipping on the perfectly balanced cup of coffee.
When Should You Use Heavy Cream In Coffee?
When making coffee, you have a lot of different options when it comes to cream. But if you want to add a bit of extra richness and depth of flavor to your cup of Joe, heavy cream is the way to go.
Before throwing in some heavy cream, remember that it is high in both fat and calories, so use it sparingly. Start with a tiny amount first, adding more gradually as you go until you're satisfied with the flavor and consistency of your coffee.
It should be noted that heavy cream is not the same as whipped cream. If an airy-light texture and a more subtle taste are what you're after, whipped cream will likely be your best bet.
Whether you choose heavy or whipped cream for your coffee simply depends on what kind of result you're looking for – just be sure to use only a little if you're going with the heavier one.
What Distinguishes It From Other Types Of Cream?
Heavy whipping cream offers a bold, rich flavor that sets it apart from other types of cream. It differs from regular cream as it is made from milk with a significantly higher fat content, giving a thicker consistency and richer flavor.
Additionally, professional baristas prefer heavy whipping cream for coffee due to its superior texture quality when frothed and used with specialty coffee drinks like lattes. It's well worth using to add extra depth of flavor to your hot drinks or baking recipes too. So if you're looking for the perfect companion for your coffee then why not give heavy whipping cream a try?
What Are The Advantages Of Using Heavy Whipping Cream?
Using heavy whipping cream in strong coffee has its advantages. Not only is it said to add a depth of flavor to the brew, but it can also help you feel full and satisfied afterward.
Heavy whipping cream is richer in fat and calories than milk or creamer alone, which makes it an ideal choice for those who are looking for a way to get their energy up for the day without snacking on unhealthy snacks.
Using heavy whipping cream may give your cup of joe that creamy texture you crave without having to go the route of half-and-half or whole milk.
Is There A Disadvantage To Using Heavy Whipping Cream?
Yes, there is a downside to using heavy whipping cream in morning coffee. While the cream can add a delicious creamy texture, it's also high in fat and calories. This means that if coffee lovers are not mindful of how much they're adding to their cup of joe, too much cream can quickly add too many calories to your drink.
Additionally, using too much whipping cream can make your coffee taste bland as it overwhelms the flavor of the coffee itself. Therefore, it's best to start with only a little quantity of heavy whipping cream and gradually increase it until you find the perfect balance between a bit of sweetness and taste.
Nutritional Benefits:
If you're looking for a tasty way to make your coffee with cream even more indulgent, try adding heavy cream. While it may add extra calories and fat to your cup of joe, there are still some nutritional benefits as well.
Consuming one tablespoon of heavy whipping cream provides 5 grams of fat, 3 of which are saturated, and 50 calories. It also contains small amounts of vitamins A and D as well as essential minerals such as iron, calcium, phosphorus, potassium, and magnesium.
What Is The Calorie Count Of A Cup Of Coffee With Heavy Whipping Cream?
If you're conscious of calorie intake, then you need to know that one cup of cold coffee with one tablespoon (tbsp) of heavy whipping cream will contain around 100 calories. Depending on the amount of cream that you choose to add to your cup, this number can change.
So it's important for those looking for healthier alternatives to be aware of the calorie and fat content before indulging in their favorite creamy beverage.
FAQs
What Are The Risks Of Putting Heavy Whipping Cream In Your Coffee?
There are a few risks of putting heavy whipping cream in your coffee. While the high fat and calorie content can add unwanted calories to your drink, it can also affect the taste of your dark roast coffee if you're not careful.
Too much cream can make it overly rich and bland, so it's best to start with a small amount and slowly increase until you find the desired balance. Moreover, too much fat in your coffee can lead to digestive issues or cause unpleasant stomach discomfort due to slow digestion.
Does Heavy Whipping Cream Curdle When Mixed With Coffee?
Yes, it's true that if not added properly, heavy whipping cream can curdle in instant coffee. To prevent this from happening, start by adding a little bit of the cream and gradually increase it until you have found the perfect balance of coffee creamer flavors.
What Amount Of Heavy Whipping Cream Should I Use In My Coffee?
If you're wondering how much heavy whipping cream should be used in your favorite coffee, the answer is going to depend on your personal taste preferences. Start off with a small amount of cream, and gradually increase it until you're satisfied with the coffee flavor.
Additionally, try playing around with different ratios of coffee to cream until you find the perfect mix that fits your palate. You may also want to experiment with other flavors as well like chocolate, vanilla, or caramel.
What Do You Call Coffee With Heavy Cream?
For those of us who like our coffee with a bit more oomph and body, there's heavy cream. Many of us have come to know it as "creamy coffee"- a delectable concoction made by adding heavy cream to your regular brewed coffee. This adds richness and lushness that just can't be achieved with regular cow's milk or creamer alone.
How Should Heavy Whipping Cream Be Frothed For Coffee?
To froth the cream, you should start by heating it in a saucepan over medium heat. Once the cream is hot, use an immersion blender to blend the liquid until it takes on a thick and foamy form. Finally, pour the whipped cream into your delicious cup of coffee and savor each sip.